Online Expert Agile Coach Program​
A 6-month mentoring & training track to Agile Coaching Mastery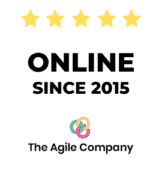 Reaching Agile Coaching Mastery Expert Agile Coach Certification Cohort coming up May 2021!
Take your agile coach career to the next level by taking a deep dive into your role
as professional coach, mentor, Facilitator and teacher for your teams.
May 11 2021
- Oct 19 2021
No event found!
Regular Price
€5500 / $6665
Early Bird Price
€4000 / $4669
6-month training & mentoring program to real Agile Coaching Mastery & ICP-ACC, ICP-ATF & ICE-AC Certification
ICAgile Expert in Agile Coaching
What you'll get with our ICE-AC program
This 6-month intense mentoring program will take you on a journey to mastery of Agile Coaching. The Agile Company has build the Cohort program to help Agile Coaches that want to achieve mastery level in their field.
The Agile Coaching Certification Course & Certificate ICP-ACC
The Agile Team Facilitation Course & Certificate ICP-ATF
A 65-hour professional Coach training for Agilists (35 CCEUs)
35-hours of professional Team Coaching, team mentoring & team facilitation training
10-hour training & mentoring program focused on building trainer skills for Agile Coaches
Unlimited contact hours with your program leads
Unlimited Coaching hours with your program leads
A 65-HOUR PROFESSIONAL COACH TRAINING FOR AGILISTS
Develop real coaching competencies that will make your interventions with your team more impactful. We use the Coaching Arc throughout the training and clarify Solution Focused team coaching practices, integral theory & systems coaching within the same framework.
The Arc of the coaching conversation
Contracting with single and multiple stakeholders
Solutions Focused Coaching for Agile
Co-active Coaching techniques
Systems coaching
Professional Coaching Competency Framework (ICF)
Leadership Coaching
10-HOUR TRAINING & MENTORING PROGRAM FOCUSED ON BUILDING TRAINER SKILLS FOR AGILE COACHES
Being an impactful trainer is something you can learn and shape. In this module we teach you the principles of designing, preparing, teaching and improving your sessions in front of real live audiencesr
Training From the Back of the Room 
Preparation, Scripting, Building experiential learning journeys
Learning and Development 
Practice with "live" audiences
Practice with peers
The Coach as a Trainer (your presence, observation and reach in the room)
Presenting Skills, vocal coaching and learning to deal with the "uncomfortable"
Improv Teaching techniques for Agile Frameworks
35-HOURS OF PROFESSIONAL TEAM COACHING, TEAM MENTORING & TEAM FACILITATION TRAINING
Full focus on you as a professional Team coach, improving your effectiveness in team development and capability building.
The difference between Facilitation and Team coaching and how to choose the right stance
Team Coaching contracting and preparation phases
Coaching in times of Conflict
Team Coaching conversation Arc
Team Development techniques and framework
Powerful Questions in Facilitation
Facilitation outside the Agile Events
 Facilitation games & activities (Liberating structures, Gamification, Improv games)
PROGRAM LEAD COACHING AND MENTORING
From the entry conversation to reaching your evaluation session, we are with you all the way! Unlimited contact moments, at least 2 coaching hours with your ICF trained coach, 3 mentor sessions to help you prepare your evaluation's deliverable
Unlimited Professional Coaching sessions, on any topic of your choice
Unlimited Private mentor sessions with your program lead, to help you prepare for the evaluation
Unlimited contact moments, whenever you need us
DESIGN YOUR OWN GROWTH TOWARDS MASTERY
Although the program has a fixed structure accompanying you towards reaching the ICE-AC and beyond, you and your group have a say in the program of our cohort. There is a lot of room for your own requests and input during the sessions. Your program leads will work closely with your group to define and fine tune the program as needed to allow the entire group to grow and learn together.  Most importantly is having the time and space to apply what you learn in between the sessions with the teams you work with. 
REACHING EXPERT AGILE COACHING MASTERY
Online Expert Agile Coach
Work towards obtaining the ICP-ACC, the ICP-ATF certificate and obtain the nessecary hours to ontain your ICF professional coaching certificate!
Reach the Expert Agile Coach level within the year
Become an expert level facilitator, mindful and coach mentor, effective and skilled trainer and a valued development partner for your team
Understand and apply the highly effective Solution Focused framework in all the different stances and competencies of the Expert Agile Coach
Succeed the ICE AC Evaluation
Meet the Team of trainers that all bring in their passion, their diverse Agile experience and specific technical knowledge to your class!
All our trainers are professional ICF coaches, and authorized ICAgile Facilitators. You will also find certified "Training from the Back of The Room" and management 3.0 trainers, Scrum and Kanban specialists and PROSCI certified Enterprise Agility trainers! We believe our team work and multi cultural and multi-lingual diversity is what makes us the best partner for your learning journey!
About The Online Agile Coach Expert program
Welcome to the ICE AC Mentoring program
Are you ready to go on a journey towards real Agile Coaching mastery, both when dealing with a team member and working with an entire team at once?
This cohort will exceed all your expectations, there simply isn't one like it out there! The Expert Agile Coach needs to be able to demonstrate true coaching skills and needs to stay present in that coaching role while giving advice, teaching a topic, and facilitating events and difficult conversations. To make sure our program stands out from the rest, we offer an extensive Professional Team Coaching program which we couple with the Solution Focused knowledge and framework, to equip you with real tools, real experience and real mentoring on your progression. We are in it for your progress!
During the 6 months that we work towards your mastery in Agile Coaching, you will work closely with a peer group in between sessions to deepen your learning about the Team Coaching competencies, practice actively and prepare for the deliverables you need to create for the evaluation. Your peer group will also function as another mentor point in which you can give and receive feedback, together you'll learn from each other's experience and challenges. We don't see the certification as a goal, it is your growth and achieving mastery that we seek to facilitate!
When going through the ICE AC evaluation you will be asked to demonstrate mastery in ALL the competencies and skills of an Agile Coach; Coaching, Mentoring, Teaching and Facilitating meetings and events, but also demonstrate flexibility in choosing the different stances and knowing how and when to adapt the chosen event or stance to best serve the team. An Agile coach can have years of experience and still fail the ICE AC evaluation! We saw an opportunity to help Agile Coaches become fluent in coaching, and helping them integrate the easy to understand and adapt Solution Focused Coach mindset in your work as a mentor, facilitator, a trainer and of course as a professional Team Coach.
How does it work:
This program is the most extensive you will find; meeting up for two hours every week, to fully focus on understanding and integrating the Solution Focused Agile Team Coach mindset in each of the stances, but also focus on online facilitation, how to build the most engaging workshops, how to help your team create a culture of coaching… As the cohort will grow and change as we go, anything is possible! And lots of room to practice, deepen our learning and you can count on your mentors to help you in your journey toward achieving the Expert level in Agile Coaching.
You will also work in a peer group with whom you will prepare several assignments that will enhance your understanding of the high-quality level ICAgile demands from the deliverables needed to show mastery in preparing your events, training sessions and to peer practice to prepare several "live" facilitated Agile events and training sessions.
Our trainers and cohort leaders propose at least 2 coaching sessions and 3 mentoring sessions in which you can work on the different materials you need to be able to deliver for your ICE-AC evaluation.
"Nothing beats in-person conversations. We love to hear more about you, your company or team and learn how to adapt our services to your specific needs.
Drop us a line and we'll call you back as soon as possible to arrange a meeting with you and your teams. This meeting is of course free of charge! Inviting The Agile Company to meet with your teams is usually the first step into getting objective and honest feedback and may serve as an eyeopener to your organisations cultural dynamics."