Enterprise Agile Coaching
Coach the enterprise through systemic implementation of Agile
This course is 100% authorized for the latest learning objectives by ICAgile
Coach the Enterprise in their journey towards Business Agility
Drive deeper conversations, more effective facilitation of decision making and understand the needs of the organisation in their journey towards Agility in the Enterprise.
ICP-ENT
Enterprise Agile Coaching
ICP-ENT
Enterprise Agile Coaching
Hear what others have to say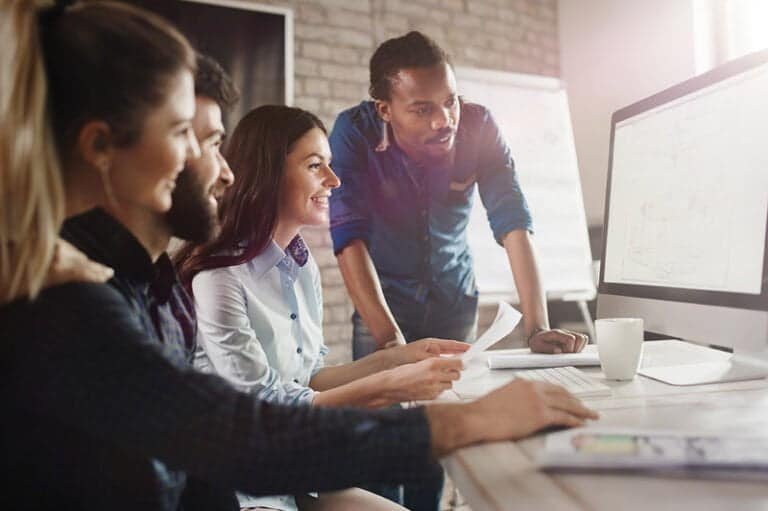 What a incredible and exciting journey the last 3 weeks have been! I had a pleasure to meet, learn and work together with great people around the globe in a very dynamic and interactive online enterprise agility course!

The current situation enabled us, as true agilists, to overcome the challenges and grow together online! Enterprise Agility is so much more than different frameworks. I'm so thankful to have been part of this journey with The Agile Company.

Special thanks to Linzi Parry and Natascha Speets with The Agile Company for bringing us this great class full of new methods, case studies, guidance and brilliant online facilitation!
This course answers all your questions on how to help organizations leverage Business Agility to reach their long-term goals!

I would recommend The Agile Company's ICP-ENT course to anyone in a leadership position who wants to gain deep knowledge of what business Agility really means, and what an impact it may have on the bottom line or an organization! Thank you Linzi for 6 amazing sessions together with our group.

You took us on a journey to discover all the important aspects of what makes an Agile leader, how to positively influence an organization's culture through innovation, and she gave us the tools that help us build practical solutions, applicable for our daily challenges in bringing business agility to our organizations.
The ICP-ENT & CAT course is a great package, to learn and deepen both the what and the how of coaching (for) Enterprise Agility.

Her deep insights in the topic and the open atmosphere she creates make sure that each topic is brought to life with examples and real life experiences. The materials provided inspire and are easy to apply in my own work.

I deepened my knowledge, got a wealth of real life examples and ideas and met wonderful people from across the globe. A heartfelt recommendation for anyone working in the field of enterprise agility or wishes to enter in.
If you're trying to decide whether to do this course, I can highly recommend it... its so content rich it will take months to digest it all. What a fantastic course!

Our changing world
Defining Business agility and your role as coach
Personal Agility and Ethical outlook on the job  
Enterprise Agile Coaching Skills goals
A Systemic approach to enterprise coaching
The Agile Company Business Agility Compass
Systems thinking , awareness and systems Dynamics
Complex adaptive systems and simplicity as a tool
Systemic vs Systems Coaching
Agile Value Delivery & WorK
The power behind lean principles in designing a workplace that delivers
Getting Leadership involved in the organisation
Paving the way for Agile Ways of Working
Measuring Value Delivered
Scaling Agile
A trusted Advisor on the need to scale
Frameworks for scaling and their Business Agility influence
Coaching the organisation in their decision to scale
Stepping into change
Personal and professional mastery
Organizational Systems Entry
Stakeholder  alignment & Work definitions
Crafting a Systems Entry plan & proposal
Responsive organisation design
Organisations evolution
Adaptive principles for organisation design
Innovation and Adaptation as levers for success
Ambidextrous design and flexible structures
Breaking Boundaries
Boundary spanning levels and information gathered
Managing Boudaries
Forging Common ground
Discovering New Frontier
Cross-boundary facilitation
Agile culture
Enablers & detractors for agile culture
Focus on behaviours
Building cultural awareness
Getting started with culture change
Language : English
Duration : 21 hours
Times: Find your time zone in the events
Certification : YES Included. ICP-ENT
Level : Professional
PDU's : to be defined
Online ICP-ENT Certification Class
Passionate about Agile, we work together as a team to deliver meaningful change for our clients. We make it our mission to inspire change with our enthusiasm and knowledge of Organizational Agility.
About the Online Agility in the Enterprise Certification class
What makes this Agile certification class so Powerful
In this class, we develop our individual awareness of the rationale and benefits of enterprise agility given the context of the future of work and the complexity of challenges facing us. We focus on our individual strengths to bring this to life for leaders and their organisations, our role in leading and facilitating change and our personal agility.
Frequently Asked Questions
"Nothing beats in-person conversations. We love to hear more about you, your company or team and learn how to adapt our services to your specific needs.
Drop us a line and we'll call you back as soon as possible to arrange a meeting with you and your teams. This meeting is of course free of charge! Inviting The Agile Company to meet with your teams is usually the first step into getting objective and honest feedback and may serve as an eyeopener to your organisations cultural dynamics."