10% Off Pack Price: €2319 / $2789
Book the bundle and choose the dates for your Agile training throughout the year (All courses have to be completed within 12 months after booking )
Installment plans available in the online reservation form!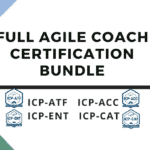 Aug 31 2021
- Jul 01 2022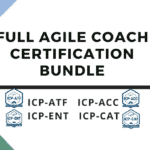 Aug 31 2021
- Jul 01 2022
No event found!
Normal Price :
€2566 $3099
Book once, plan your training throughout the year!
Full Agile Coach Certification bundle
Book the best courses for the best price!
We believe that the quality of our courses exceed the price we ask for them, but as we made it our mission to help drive Agile transformation worldwide, we believe that by providing high quality courses coupled with  continuous support (coaching, mentoring and community events –  never stop learning with The Agile Company) we will achieve this together, with you!
Full Agile Coach Certification Bundle
Beat the market, Come prepared!
These 4 highly recommended courses have been developed by The Agile Company and are fully authorized by ICAgile. The  courses we provide exceed the learning objectives set out by ICAgile as we have only your growth in mind. The Agile Coach track and Enterprise Agility Coach tracks make up 4 very distinct courses that will both teach you the concepts and theory, but also build the competency in you through practice, discussion and challenges in and outside the classroom. As we want you to succeed in your Agile Coaching journey, you will have 4 coaching sessions whenever you need it, to help you in an area of growth you want support with!
Book the Agile Coach Certification Bundle and decide later when you want to take part in the classes
Together we schedule your 4 training courses according to your preferences in the year
All courses have to be completed within 12 months after booking the deal.
Training courses booked through the bundle offer are individual specific and are not transferable to others
In the Bundle
Book these Certification Courses anytime in the year:
REACHING EXPERT AGILE COACHING MASTERY
Passionate about Agile, we work together as a team to deliver meaningful change for our clients. We make it our mission to inspire change with our enthusiasm and knowledge of Organizational Agility.
"Nothing beats in-person conversations. We love to hear more about you, your company or team and learn how to adapt our services to your specific needs.
Drop us a line and we'll call you back as soon as possible to arrange a meeting with you and your teams. This meeting is of course free of charge! Inviting The Agile Company to meet with your teams is usually the first step into getting objective and honest feedback and may serve as an eyeopener to your organisations cultural dynamics."