Online
Agile Coach Certification
Immersive and Live Virtual Conference Agile Coaching Course
Hurry up, only a few seats are left.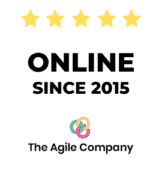 Practice, learn and experience
what Agile Coaching really means
Our next online ICP ACC Certifications
Regular Price
$1099 / €1012
Early Bird Price
$799 / €759
Development in the discipline of Agile coaching 
Definition of the role of a coach for Agile Teams 
The Coach as a Role Model 
Achieving essential changes in Mindset
Achieving self-awareness and self-management
Agile Coach as a mentor
Giving advice while maintaining presence
Articulating expertise
Leaving the customer free to choose
Contrast between mentoring and coaching
Giving and receiving feedback
Conducting the mentoring conversation
Coaching a Team and its members through Change
Understanding the impact of change for the team and individuals
Key Transition challenges for people and teams 
Understanding the individual change cycle
Key Transitions of Agile Roles
Identify and address resistance to change
Conducting a conversation about motivation in change
Building Capacity in Teams
Being an Agile rolemodel when teaching values
Creating a safe space for mutual learning
Designing sessions that favour self-learning and discovery
Reinforcement of self-awareness and self-management capacity within the team
Coach as a teacher
Using multiple teaching methods
How to divide content into digestible pieces
Check for understanding
Creating an environment that fosters learning
Helping team members to experience agile mindset and role changes
Identifying and capturing impediments and leadership commitment
Professional Coaching Skills Fundamentals
Coach as a professional coach
Emotional intelligence and presence
Active Listening and Powerful Questions
Determining the Coaching Question
Exploration of the subject and its solutions
Commitment & action plan (GROW, SMART)
Conducting the coaching conversation
Team Coaching
Fundamentals
Contracts and agreements
Articulating expertise and choice to the Team
Giving and Receiving Feedback
Contrast between mentoring and coaching
The Team as a complex system
Understanding Team maturity and development
Helping the team develop its path towards high performance
Observation and how to expose what is happening
Team development models in use
Define, identify and target high performance
Assessing the team as a healthy system
Adapt your style according to the maturity of the team
Coaching a Team and its members through Conflict
Identifying and helping teams overcome conflict
Helping teams and facilitators stand tall in the storm
Working with dysfunctional behaviour in a team
Coaching teams through challenges, impediments and building selfawaress
A coach that also directs the team, where is the conflict?
Solution Focused Team Coaching for conflict resolution
Online Agile Coach Certification Course
During this online Agile Coach certification course, you will work closely with the other participants and you will complete the training with an additional wealth of experience.
Understanding the principles and tools of a Professional Coach
Assuming his role as Agile Coach
Knowing how to choose between different roles at the right moment (mentor, facilitator, consultant, trainer, coach etc.)
Accommodate Agile Transformations and adapt it to its context.
Receive the 

ICP- 

ACC certification delivered by ICAgile
Develop knowledge related to Agile principles and methods
Language : English
Duration : Depends on the event
Times: Find your timezone in the events
Certification : YES ICP-ACC
Level : Professional
PDU's: 24
Passionate about Agile, we work together as a team to deliver meaningful change for our clients. We make it our mission to inspire change with our enthusiasm and knowledge of Coaching, Agile Teams and Organizational Agility.
Online ICP-ACC Course Program
About The Online Agile Coach Certification
What makes this Agile Course different
Even online, our courses are highly immersive, which means that you will not see many PowerPoint presentations. You are put to work immediately and start learning by doing and experimenting with the tools explained and modeled by your peers and your ICAgile Accredited trainer.
Hear what others have to say
I strongly recommend the Agile Coaching Certification Program with Tadej!
"New insights and perspectives in how to more effectively assist individuals through coaching and mentoring"
"A truly engaging course, with a great balance of concept teaching and practical practice.
"You are great, very professional, kind, and connected to the group. It was a pleasure to learn from you!"
Frequently Asked Questions
"Nothing beats in-person conversations. We love to hear more about you, your company or team and learn how to adapt our services to your specific needs.
Drop us a line and we'll call you back as soon as possible to arrange a meeting with you and your teams. This meeting is of course free of charge! Inviting The Agile Company to meet with your teams is usually the first step into getting objective and honest feedback and may serve as an eyeopener to your organisations cultural dynamics."