Agile Team Facilitation Bootcamp in Dublin Guaranteed 100% to run
Special Edition: a
unique chance to deepen your Agile Coaching skills
Meet Face-2-Face with our Agile Coaching Trainers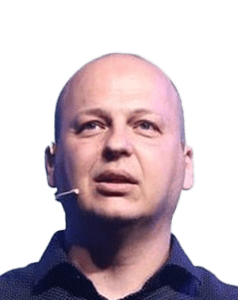 Tadej is an exceptional Agile coach, who jumps at any occasion to help build self-organizing teams that safely grow towards Agile maturity and high performance.
As a trainer with The Agile Company, Tadej will show you the way towards excellence in coaching, mentoring, teaching and facilitation by demonstrating the expert competence he has acquired over the years.
He will challenge you when needed and knows how to adapt the learning to your own level of competence, so that the learning will always feel like a perfect fit!

Tadej believes in meaningful conversations as vehicle for change and embodies a Forward Focused mindset in his work as coach and trainer.

His classes are a mix of serious play, a touch of lighthearted challenge and a serious dose of self-reflection!
Pay in 1, 2 or 3 installments

€
899
VAT/Sales Tax Exempt
14 hours on-site training

Innovative learning methods

Notebook and training material

Your role as a facilitator and the design of the process
What is Agile Team Facilitation (and what isn't)
The spirit of facilitation
Definition of Facilitation
Definition of Agile Team Facilitation
Define your agile coaching development path
Assess your ability to serve the team
Be the facilitator they need
The Facilitation Mindset
Create a Collaborative Space
Definining the Purpose and Outcomes
Design the Flow
Facilitate agile meetings
Facilitating the Daily
Facilitate Retrospective
Facilitate Sprint Review
Facilitate Backlog Refinement
Facilitate sprint planning (Sprint Planning)
Creating a space for collaboration
Starting prepared – Interviewing stakeholders
Design and prepare meetings
Conducting a facilitated meeting
Maintain neutrality
Staying calm in the storm
Keep the team's agenda
Being the guardian of Agile values
Facilitating full participation
Use of meeting organization tools
Facilitate collaborative conversations
Clarify the decision-making authority of the team
On-site Agile Team Coach Full Certification Course
Language: English
Duration: 14 hours of training
Certifications: ICP-ATF
Level: Professional
Hear what others have to say
"Natascha has an amazing command of the technology and creates a truly interactive experience!
"Thank you for such an amazing experience. I've learned a lot and I look forward to taking future classes with you. Bravo!"
"A truly engaging course, with a great balance of concept teaching and practical practice.
"You are great, very professional, kind, and connected to the group. It was a pleasure to learn from you!"
"Nothing beats in-person conversations. We love to hear more about you, your company or team and learn how to adapt our services to your specific needs.
Drop us a line and we'll call you back as soon as possible to arrange a meeting with you and your teams. This meeting is of course free of charge! Inviting The Agile Company to meet with your teams is usually the first step into getting objective and honest feedback and may serve as an eyeopener to your organisations cultural dynamics."