Agile Coaching
Bootcamp ACC & ATF
in Dublin
Special Edition: a
unique chance to deepen your Agile Coaching skills
Meet face 2 face with our Agile Coaching trainers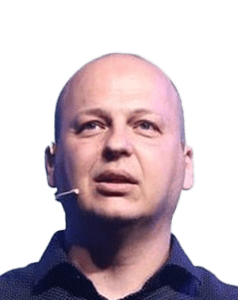 Tadej is an exceptional Agile coach, who jumps at any occasion to help build self-organizing teams that safely grow towards Agile maturity and high performance.
As a trainer with The Agile Company, Tadej will show you the way towards excellence in coaching, mentoring, teaching and facilitation by demonstrating the expert competence he has acquired over the years.
He will challenge you when needed and knows how to adapt the learning to your own level of competence, so that the learning will always feel like a perfect fit!

Tadej believes in meaningful conversations as vehicle for change and embodies a Forward Focused mindset in his work as coach and trainer.

His classes are a mix of serious play, a touch of lighthearted challenge and a serious dose of self-reflection!
Pay in 1, 2 or 3 installments

ICP-ACC + ICP-ATF
Dual Certification
€
1999
VAT/Sales Tax Exempt
35 hours live online training

Innovative learning methods

Notebook and training material

ICAgile Certificate ACC & ATF
Expleo Ireland Dublin
30 North Wall Quay,
North Wall
Dublin 1 D01 R8H7
Ireland

Google Maps
Course Program ICP-ATF & ICP-ACC
Development in the discipline of Agile coaching 
Definition of the role of a coach for Agile Teams 
The Coach as a Role Model 
Achieving essential changes in Mindset
Achieving self-awareness and self-management
Agile Coach as a mentor
Giving advice while maintaining presence
Articulating expertise
Leaving the customer free to choose
Contrast between mentoring and coaching
Giving and receiving feedback
Conducting the mentoring conversation
Team Coaching
Fundamentals
Contracts and agreements
Articulating expertise and choice to the Team
Giving and Receiving Feedback
Contrast between mentoring and coaching
The Team as a complex system
Understanding Team maturity and development
Helping the team develop its path towards high performance
Observation and how to expose what is happening
Team development models in use
Define, identify and target high performance
Assessing the team as a healthy system
Adapt your style according to the maturity of the team
Your role as a facilitator and the design of the process
What is Agile Team Facilitation (and what isn't)
The spirit of facilitation
Definition of Facilitation
Definition of Agile Team Facilitation
Define your agile coaching development path
Assess your ability to serve the team
Be the facilitator they need
The Facilitation Mindset
Create a Collaborative Space
Definining the Purpose and Outcomes
Design the Flow
Facilitate agile meetings
Facilitating the Daily
Facilitate Retrospective
Facilitate Sprint Review
Facilitate Backlog Refinement
Facilitate sprint planning (Sprint Planning)
Professional Coaching Skills Fundamentals
Coach as a professional coach
Emotional intelligence and presence
Active Listening and Powerful Questions
Determining the Coaching Question
Exploration of the subject and its solutions
Commitment & action plan (GROW, SMART)
Conducting the coaching conversation
Coaching a Team and its members through Change
Understanding the impact of change for the team and individuals
Key Transition challenges for people and teams 
Understanding the individual change cycle
Key Transitions of Agile Roles
Identify and address resistance to change
Conducting a conversation about motivation in change
Creating a space for collaboration
Starting prepared – Interviewing stakeholders
Design and prepare meetings
Conducting a facilitated meeting
Maintain neutrality
Staying calm in the storm
Keep the team's agenda
Being the guardian of Agile values
Facilitating full participation
Use of meeting organization tools
Facilitate collaborative conversations
Clarify the decision-making authority of the team
Coaching a Team and its members through Conflict
Identifying and helping teams overcome conflict
Helping teams and facilitators stand tall in the storm
Working with dysfunctional behaviour in a team
Coaching teams through challenges, impediments and building selfawaress
A coach that also directs the team, where is the conflict?
Solution Focused Team Coaching for conflict resolution
Building Capacity in Teams
Being an Agile rolemodel when teaching values
Creating a safe space for mutual learning
Designing sessions that favour self-learning and discovery
Reinforcement of self-awareness and self-management capacity within the team
Coach as a teacher
Using multiple teaching methods
How to divide content into digestible pieces
Check for understanding
Creating an environment that fosters learning
Helping team members to experience agile mindset and role changes
Identifying and capturing impediments and leadership commitment
On site Agile Team Coach
Full Certification Course
Understanding the principles and tools of a Professional Agile Team Coach
Coach, mentor and facilitate the growth and development of an Agile team with professional coaching skills
Apply coaching skills in all asoects of the Agile Team Coach profession
Apply Solutions focussed approach to Coaching, mentoring, training and Facilitation
Accommodate Agile Transformations on team level
Receive the ICP-ATF certification delivered by ICAgile
Receive the ICP-ACC certification delivered by ICAgile
Language: English
Duration: 35 hours of training
Certifications: ICP-ACC + ICP-ATF
Level: Professional
Hear what others have to say
"Natascha has an amazing command of the technology and creates a truly interactive experience!
"Thank you for such an amazing experience. I've learned a lot and I look forward to taking future classes with you. Bravo!"
"A truly engaging course, with a great balance of concept teaching and practical practice.
"You are great, very professional, kind, and connected to the group. It was a pleasure to learn from you!"
"Nothing beats in-person conversations. We love to hear more about you, your company or team and learn how to adapt our services to your specific needs.
Drop us a line and we'll call you back as soon as possible to arrange a meeting with you and your teams. This meeting is of course free of charge! Inviting The Agile Company to meet with your teams is usually the first step into getting objective and honest feedback and may serve as an eyeopener to your organisations cultural dynamics."