Coaching Agile Transformations
Learn how to coach people and organizations towards sustainable agile change
Hurry up, limited seats per cohort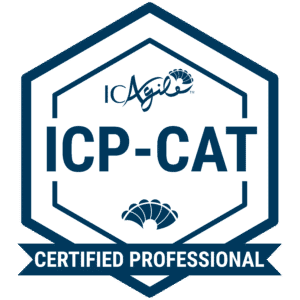 All the tools an Enterprise Agility Coach needs
ICP-CAT
Coaching Agile Transitions
799
€
Launch Ticket Price
2 Professional Coaching hours
ICP-CAT
Coaching Agile Transitions
$
799
Launch Ticket Price
2 Professional Coaching hours

What makes this course different
The Agile Company creates their materials from experience; we have incorporated years of feedback, trying and testing tools and frameworks, and actually doing the work with our clients. The Business Agility Compass is a tool for Agile coaches working with organizations and Enterprises wanting to embark on, or improve their Agile Transformation.  We poor our passion, knowledge and hours of work into the work we do with our clients, and this transpires in engaging, interactive and "awareness facilitating" agile courses. The ICP-CAT Certificate class is no different, We teach you all our secrets, frameworks and strategies and you will have a well-filled toolbox at your disposal for your next Agile Transformation project!
Organization and Human Change Processes
Business Case for Change
Human change process
Organisational change process
Bringing an Agile Mindset to Change
Agile Transition and Transformation Change Strategies
Organizational Assessments
Strategy and Contract for Change
Organizational Impediments to Change
Communicating at an Organizational Level
Self-Mastery, Professional Development and Ethics
Learning Journeys and Professional Development
Personal and Professional Mastery
Ethical Considerations of Enterprise Agile Coaching
Understanding impediments
Leadership Styles and Organizational Culture
Enterprise Agile Coaching Skills
Leadership Styles and Development
Aligning with leadership throughout the organization
Organizational Culture and Alignment
Organizational Culture Models
Approaches to Culture Assessment
Shein, Schneider, and other ways to unravel the culture
Organizational Change
Bringing the agile mindset to change
Co-creating an organisational change strategy
Building networks of change agents
Understanding impediments
Language : English
Duration : 21 Hours
Certification : ICP-CAT
Level : Intermediate
PDU's : tbd
Online ICP-CAT Certification Class
Hear what others have to say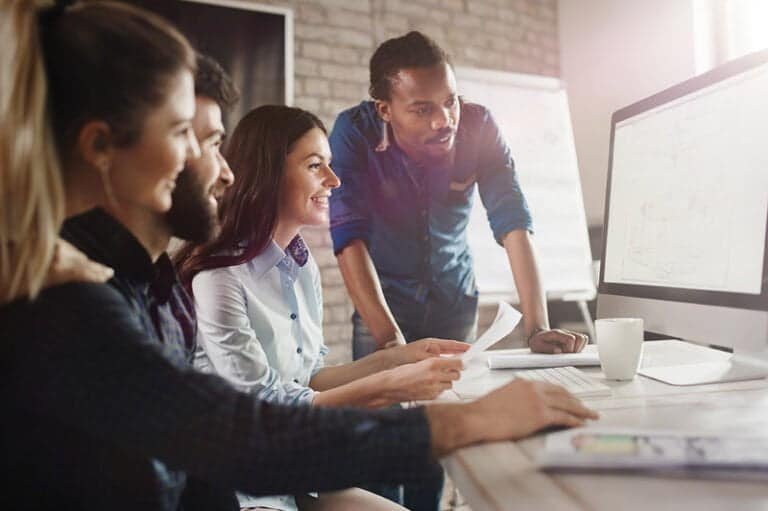 Thank you again for what was probably the most useful, fun and collaborative online course I've ever been on – and I've been on many! I'm looking forward to creating opportunities to put the learning into practice, now that I have a comprehensive toolbox at my disposal!
What a incredible and exciting journey the last 3 weeks have been! I had a pleasure to meet, learn and work together with great people around the globe in a very dynamic and interactive online enterprise agility course!

The current situation enabled us, as true agilists, to overcome the challenges and grow together online! Enterprise Agility is so much more than different frameworks. I'm so thankful to have been part of this journey with The Agile Company.

Special thanks to Linzi Parry and Natascha Speets with The Agile Company for bringing us this great class full of new methods, case studies, guidance and brilliant online facilitation!
This course answers all your questions on how to help organizations leverage Business Agility to reach their long-term goals!

I would recommend The Agile Company's ICP-ENT course to anyone in a leadership position who wants to gain deep knowledge of what business Agility really means, and what an impact it may have on the bottom line or an organization! Thank you Linzi for 6 amazing sessions together with our group.

You took us on a journey to discover all the important aspects of what makes an Agile leader, how to positively influence an organization's culture through innovation, and she gave us the tools that help us build practical solutions, applicable for our daily challenges in bringing business agility to our organizations.
The ICP-ENT & CAT course is a great package, to learn and deepen both the what and the how of coaching (for) Enterprise Agility.

Her deep insights in the topic and the open atmosphere she creates make sure that each topic is brought to life with examples and real life experiences. The materials provided inspire and are easy to apply in my own work.

I deepened my knowledge, got a wealth of real life examples and ideas and met wonderful people from across the globe. A heartfelt recommendation for anyone working in the field of enterprise agility or wishes to enter in.
If you're trying to decide whether to do this course, I can highly recommend it... its so content rich it will take months to digest it all. What a fantastic course!
Passionate about Agile, we work together as a team to deliver meaningful change for our clients. We make it our mission to inspire change with our enthusiasm and knowledge of Organizational Agility.
About The Online Coaching Agile Transitions Certification
Overview of the Agile Course
Organisations embarking on transformations or looking to build on significant changes they've made to their business models during 2020 face challenges in getting started and in sustaining their efforts. Agility in an organisation comes from being good at change and the process of change.
Frequently Asked Questions
"Nothing beats in-person conversations. We love to hear more about you, your company or team and learn how to adapt our services to your specific needs.
Drop us a line and we'll call you back as soon as possible to arrange a meeting with you and your teams. This meeting is of course free of charge! Inviting The Agile Company to meet with your teams is usually the first step into getting objective and honest feedback and may serve as an eyeopener to your organisations cultural dynamics."