Online Expert Agile Coach Program​
A 6-month mentoring track to Agile Coaching Mastery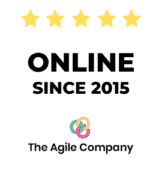 Reaching Agile Coaching Mastery Expert Agile Coach Certification Cohort coming up March 2021!​
Take your agile coach career to the next level by taking a deep dive into your role
as professional coach, mentor, Facilitator and teacher for your teams.
This program is pre-accredited for the ICE-AC certification, we expect to have our full accreditation before the start of the Cohort in March!
Launch price



€4000 / $4890
6-month training & mentoring program to real Agile Coaching Mastery
About The Online Agile Coach Expert program
Welcome to the ICE AC Mentoring program
Are you ready to go on a journey towards real Agile Coaching mastery, both when dealing with a team member and working with an entire team at once?
This cohort will exceed all your expectations, there simply isn't one like it out there! The Expert Agile Coach needs to be able to demonstrate true coaching skills and needs to stay present in that coaching role while giving advice, teaching a topic, and facilitating events and difficult conversations. To make sure our program stands out from the rest, we offer an extensive Professional Team Coaching program which we couple with the Solution Focused knowledge and framework, to equip you with real tools, real experience and real mentoring on your progression. We are in it for your progress!
ICAgile Expert in Agile Coaching
What you'll get with the ICE-AC
This 6-month intense mentoring program will take you on a journey to mastery of Agile Coaching. The Agile Company has build the Cohort program to help Agile Coaches that want to achieve mastery level in their field.
BUILDING TEAM COACH COMPETENCIES FOR AGILE COACHING
We will meet three hours every week to allow you to integrate the competencies needed to call yourself a Team Coach. We will work on Solution Focused team coaching practices, integral theory & systems coaching
Agile Coach as a professional coach and SF
The difference between coaching and team coaching
Ethics for Agile Coaches & Presence
Coaching Agreements & Contracts
Your influence & presence as Team Coach
Active listening when working with a team
Evoking awareness in coachee and Team
Facilitating Growth in a Team
ASSIGNMENTS & PEER GROUPS
During the 6 months that we work towards your mastery in Agile Coaching, you will work closely with a peer group in between sessions to deepen your learning about the Team Coaching competencies, practice actively and prepare for the deliverables you need to create for the evaluation. Your peer group will also function as another mentor point in which you can give and receive feedback, together you'll learn from each other's experience and challenges. We don't see the certification as a goal, it is your growth and achieving mastery that we seek to facilitate!
At least 18 peer group sessions ( 36 hours)
5 Mentor sessions with your Trainer to make sure you are ready for the ICE AC evaluation
Several different assignments co-created and delivered with your peer group
Active peer group mentoring & feedback
A variety of skills and sharing knowledge
peer train, facilitate and coach!
Friends and networks for life
DESIGN YOUR OWN GROWTH TOWARDS MASTERY
Although the program has a fixed structure accompaying you towards reaching the ICE-AC and beyond, you and your group have a say in the program of our cohort. There is a lot of room for your own requests and input during the sessions. Your program leads will work closely with your group to define and finetune the program as needed to allow the entire group to grow and learn together.  Most importantly is having the time and space to apply what you learn in between the sessions with the teams you work with. 
Some of topics the sessions may include:
Coaching and Mentoring
Leadership Coaching
Coaching in times of Conflict
Solutions Focused Mentoring
Flex Coaching
Facilitation Skills
Liberating Structures Immersion (Online)
Facilitating as a coach – Your role
Preparation is key
Powerful Questions in Facilitation

Facilitation Games

Facilitating outside of Agile – The board room
Training Skills
Training from the Back of the room Deep Dive
Laser teaching
Your energy and animation
focus & skill building
Workshop building
Training games
Improv Teaching techniques for Agile Frameworks
PROGRAM LEAD COACHING AND MENTORING
From the entry conversation to reaching your evaluation session, we are with you all the way! Unlimited contact moments, at least 2 coaching hours with your ICF trained coach, 3 mentor sessions to help you prepare your evaluation's deliverable
2 Professional Coaching sessions, on any topic of your choice
3 Private mentor sessions with your program lead, to help you prepare for the evaluation
Unlimited contact moments, whenever you need us
When going through the ICE AC evaluation you will be asked to demonstrate mastery in ALL the competencies and skills of an Agile Coach; Coaching, Mentoring, Teaching and Facilitating meetings and events, but also demonstrate flexibility in choosing the different stances and knowing how and when to adapt the chosen event or stance to best serve the team. An Agile coach can have years of experience and still fail the ICE AC evaluation! We saw an opportunity to help Agile Coaches become fluent in coaching, and helping them integrate the easy to understand and adapt Solution Focused Coach mindset in your work as a mentor, facilitator, a trainer and of course as a professional Team Coach.
How does it work:
This program is the most extensive you will find; meeting up for two hours every week, to fully focus on understanding and integrating the Solution Focused Agile Team Coach mindset in each of the stances, but also focus on online facilitation, how to build the bmost engaging workshops, how to help your team create a culture of coaching… As the cohort will grow and change as we go, anything is possble! And lots of room to practice, deepen our learning and you can count on your mentors to help you in your journey toward achieving the Expert level in Agile Coaching.
You will also work in a peer group with whom you will prepare several assignments that will enhance your understanding of the high-quality level ICAgile demands from the deliverables needed to show mastery in preparing your events, training sessions and to peer practice to prepare several "live" facilitated Agile events and training sessions.
Our trainers and cohort leaders propose at least 2 coaching sessions and 3 mentoring sessions in which you can work on the different materials you need to be able to deliver for your ICE-AC evaluation.
REACHING EXPERT AGILE COACHING MASTERY
Launch price



€4000 / $4890
6-month training & mentoring program to real Agile Coaching Mastery & ICE AC Certification
Online Expert Agile Coach
Reach the Expert Agile Coach level within the year
Become an expert level facilitator, mindful and coachlike mentor, effective and skilled trainer and a valued development partner for your team
Understand and apply the highly effective Solution Focused framework in all the different stances and competencies of the Expert Agile Coach
Succeed the ICE AC Evaluation* Program being accredited
Passionate about Agile, we work together as a team to deliver meaningful change for our clients. We make it our mission to inspire change with our enthusiasm and knowledge of Organizational Agility.
"Nothing beats in-person conversations. We love to hear more about you, your company or team and learn how to adapt our services to your specific needs.
Drop us a line and we'll call you back as soon as possible to arrange a meeting with you and your teams. This meeting is of course free of charge! Inviting The Agile Company to meet with your teams is usually the first step into getting objective and honest feedback and may serve as an eyeopener to your organisations cultural dynamics."