Online Agile Team Facilitation​
Immersive and Live Virtual Conference Agile Team Facilitator Course​
3 time zones available:
Europe / UK + USA / Canada + Asia / Australia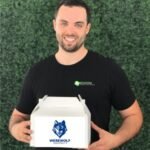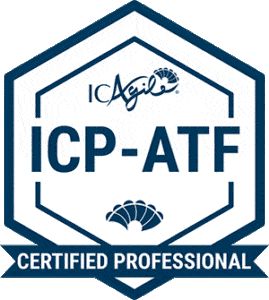 "A world-class educational experience with an incredible group of coaches that I'm so happy to call friends. Thank you for everything Paulie Skaja and I'm looking forward to learning more from you and The Agile Company!"
Wade Wicks
Learn how to guide and facilitate growth in Agile Teams
ICP-ATF
Agile Team Facilitation​
14 hours live online training

4 x 3.5-hour live sessions

Innovative learning methods

Notebook and training material

ICAgile ICP-ATF Certificate
ICP-ATF
Agile Team Facilitation​
14 hours live online training

Innovative learning methods

Notebook and training material

ICAgile ICP-ATF Certificate
Online Agile Team Facilitation Certification Course
Course Objectives ICP-ATF
Understanding the principles and tools of a Professional Agile Team Facilitator
Know how to facilitate Agile meetings
Learn how to prepare for an Agile meeting
Learn how to prepare for "conflict" or "complicated" meetings
A Solutions focussed approach to Team Facilitation
Accommodate Agile Transformations and adapt it to its context.
Receive the ICP-ATF certification delivered by ICAgile
Develop knowledge related to Agile principles and methods
Course Program ICP-ATF Certification

Your role as a facilitator and the design of the process
What is Agile Team Facilitation (and what isn't)
The spirit of facilitation
Definition of Facilitation
Definition of Agile Team Facilitation
Define your agile coaching development path
Assess your ability to serve the team
Be the facilitator they need
The Facilitation Mindset
Create a Collaborative Space
Definining the Purpose and Outcomes
Design the Flow
Facilitate agile meetings
Facilitating the Daily
Facilitate Retrospective
Facilitate Sprint Review
Facilitate Backlog Refinement
Facilitate sprint planning (Sprint Planning)
Creating a space for collaboration
Starting prepared – Interviewing stakeholders
Design and prepare meetings
Conducting a facilitated meeting
Maintain neutrality
Staying calm in the storm
Keep the team's agenda
Being the guardian of Agile values
Facilitating full participation
Use of meeting organization tools
Facilitate collaborative conversations
Clarify the decision-making authority of the team
Adapt facilitation to the maturity of the team
Your facilitation style
Agile Team Maturity – Tuckman Model – Shu Ha Ri
Adapt the intervention to the maturity of the team
Language : English
Duration : 4x 3.5-hour session
Certification : YES ICAgile ICP-ATF
Level : Professional
PDU's : 14
Our customers testimonials
I am excited to share I learned so many new tools and facilitation techniques in The Agile Company's ATF class! I received useful and relevant feedback from the group and the trainer on some of my facilitation skills and was able to become aware of "blind spots".

The course was filled with real life examples and field experience brought in by the trainer, I am looking forward to putting everything in practice now with my own teams!
Vanessa Costa Silva
Change Mentor ▪️ Agile Coach ▪️ Learning Facilitator
I am chuffed to receive my icagile certificate in Agile Team Facilitation!

The group was small and highly skilled, and the learning experience with Tadej Accetto was relaxing, interactive and engaging!
I now have a lot of team facilitation techniques up my sleeve:)
Sade Onile-Ere
Head of Delivery - Digital Transformation
I have recently had the pleasure to complete the Agile Team Facilitation certification course led by Tadej. His way of creating a space for everyone to share their experiences is invaluable.

His own experiences are also truly countless. On top of that the online format has provided me with tons of insights for the reality of facilitating remotely working teams. Thank you! Looking forward to next training.
Barbara Szczesniak
Strategic Partnerships Manager @ adjoe
Online ICP-ATF Course Program
Passionate about Agile, we work together as a team to deliver meaningful change for our clients. We make it our mission to inspire change with our enthusiasm and knowledge of Organizational Agility.
About The Online Agile Coach Certification
What makes this Agile Course different
Even online, our courses are highly immersive, which means that you will not see many PowerPoint presentations. You are put to work immediately and start learning by doing and experimenting with the tools explained and modeled by your peers and your ICAgile Accredited trainer.
Frequently Asked Questions
Discover our Enterprise Agile Coaching Program
Have a question? We remind you
"Nothing beats a face-to-face conversation to understand your company's history and discover its needs."
Natascha SPEETS, founder of The Agile Company
A totally free and non-binding meeting.
We explain everything about Organizational Agility and how we can help you reap its benefits for your team.